Grand Fiesta Americana Los Cabos All Inclusive Golf & Spa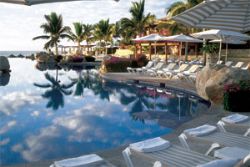 Grand Fiesta Americana Los Cabos All Inclusive Golf & Spa
Discover an amazing world of contrasts where the desert meets the sea. For your visit to this seductive and enchanting destination, choose the world-class Grand Fiesta Americana Los Cabos All Inclusive Golf & Spa, where your visit will be defined by exclusivity, luxury and distinction. The exceptional hotel helps you to enjoy your vacation in Grand Style.
Land price is per!-->
...
Family Vacations
Spa and Fitness Trips
Sun and Sand

Serving connoisseurs of travel since 1977, Journese℠ embodies the promise of an exquisite journey, with fine travel made seamless and effortless through experienced Destination Specialists. Our travel experts personally visit and handpick the world's finest properties, establishing supplier relationships to ensure VIP treatment at premier resorts, Private Retreats℠, private resort residences, luxury trains and cruises. We offer journeys to Australia, Canada,
...
Fiesta Americana Grand Los Cabos