15 Day Discover Australia and New Zealand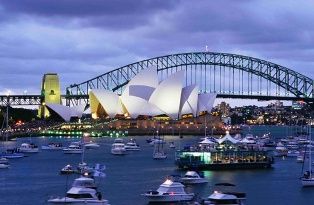 15 Day Discover Australia and New Zealand
Embark on a leisurely adventure ablaze with colour. Discover the colourful coral and tropical fish of the Great Barrier Reef, the vivid red hues of Uluru and Kata Tjuta, the luminously lit Glowworm Grotto to snow-white Aboriginal markings and the jet-black Ta Moko of the Maoris. Meander past ancient totems, modern icons and breathtaking natural wonders, enjoying a bit of 'fair dinkum' fun along the
...
Adventure and Active
Gardens, Foliage, and Nature
Romance and Honeymoons
Safari, Animals, and Wildlife

Travel2 was created by the partnership of two renowned travel brands: Newmans Vacations and ATS Tours. Combined with Islands in the Sun, our sister company specializing in romance travel, we bring more than 200 years of experience in designing customized travel itineraries to Australia, New Zealand, the South Pacific Islands and Asia.
We understand that no two travelers are alike so we offer endless travel choices for first-time visitors and unique, "off-the-beaten-path" itineraries
...