The Cruise North - Summer
on Coastal Ships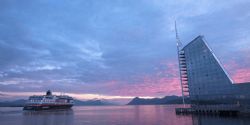 The Cruise North
The Cruise North is a journey of cultural exploration as you travel to the major coastal cities and remote communities, continuing north into the Arctic Circle. Explore the rugged coastline as you go face-to-face with natural wonders and experience thrilling excursions.
Visit the legendary Geirangerfjord on summer voyages
Visit the Hjørundfjord, Norway's most beautiful fjord, on autumn
...

In business since 1893, Hurtigruten operates premium exploration voyages to Norway, Greenland, Spitsbergen, Iceland, Europe, Africa, South America, Central America, Arctic Canada, and Antarctica. These are unique destinations where the natural beauty is matched only by the breathtaking beauty and stunning diversity of its wilderness, inhabitants, flora, and fauna. On all of the small ships in our fleet, you will find modern facilities and equipment designed specifically to sail in remote areas.
...